This morning, one of my favourite people in the world, Ro (otherwise known as Sinnerman) left the shores of Singapore for good to pursue his dreams.

He is one of those rare souls with whom I have a very special connection. One that's undiluted by the other connections each of us has with other people.

He was supposed to fly off on Saturday morning, but due to some screw-up in SQ's website, the only flight he could get on was on Friday morning. When he told me this, I was stunned. Actually I felt angry. Very angry with him. For no fault of his, but I was.

My crazy schedules gave me no time to spend any time with him during the week. I had plans of a proper farewell party on Friday night, and a proper send-off at the airport on Saturday morning. But everything was moved forward by a day, and I could not do anything other than just attend a rushed farewell party thrown by his other friends on Thursday night. And since I had class and house-signing that night, I reached the party really late. The thought of seeing him only for an hour or so in a big crowd was frustrating.

That's all I get? He just goes away like that? What utter nonsense!

I was getting angrier by the minute. If you're a friend of Sayesha's, you can't just go away like that. I won't let you. That's how I am. Take it or leave it.

And so, as everyone said their goodbyes to him after the party, I had made up my mind. I was not gonna give up without a fight.

So this morning when I woke up, I sent my Managing Editor an sms, telling him I would be taking half-day off. I'd just taken half-day off yesterday, and I knew I was treading dangerous ground just a week before my appraisal, by asking for leave on the very morning of a very important meeting. But I didn't care.

Some things matter so much that others don't anymore.

And so, this morning, two close friends met each other one last time at the airport, and relived the precious moments of the past. As we walked towards the immigration gates, I had his passport in my hand. And just like that, I had a sudden desire to confiscate it. Yeah, I knew I was being stupid. He had to go. I had to let him go. And so I saw him off without a tear, and then went to work with a happy heart, listening to a song both of us are crazy about, and knowing that people who matter will always stay in my heart, no matter where they go.

Farewell, Sinnerman. Friend. Philosopher. Photographer.

And here are three of my favourite photos he'd taken of me.





















Sayesha in a roadside bookshop on the streets of Phnom Penh, Cambodia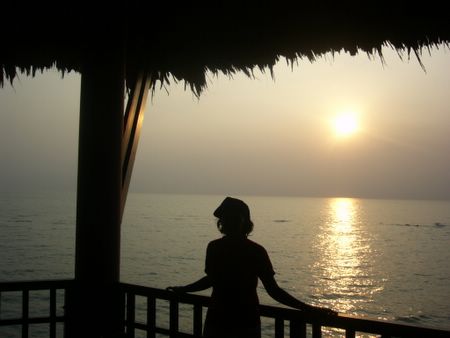 Sayesha at the Red Onion, Port Dickson, Malaysia






















Sayesha on the beach at Redang island, Malaysia